---
IKD-SJ Official Site
ikd-sj Live Show
Date: Oct. 4th, 2022
OPEN 18:30/START 19:00
Price: 2800JPY (+1D 500JPY)
Venue:
EARTHDOM
Address:
2-32-3 Okubo, Shinjuku-Ku, Tokyo, JAPAN 1690072
Open Google Map
Directions: From the Shin-Okubo station, take Okubo-dori towards the right, Walking on the sidewalk on the left side for about 10 meters, there is a convenience store "ministop" around. And there is a big sign written as "ベトナムフォー" in yellow letters. On the left side of "とんちゃん" restaurant, you can find a staircase that descends to the basement . Go down the stairs, and you can find the entrance to the club.
ATTENTION : No outside drink allowed in the club. If you need drinks, please purchase in the club.
*
Open this page at live show.
*
E-mail Magazine
Ikd-sj Related Information Delivery (Irregularly)
Input your e-mail address and push submit(delete) button.
- We never use your registered e-mail address for any other purpose else.
- Your registered e-mail address is securely stored with our own encryption technology.
- By the same procedure, also you can check if your e-mail address is already registered.
- By using delete button, you can delete your e-mail magazine registration.
---
new album "Yvideo"
19 songs included
download free
Download Page
A4 Sized/28pages Lyrics Booklet on sale at live show.
Available to buy only one amount for each one person.
---
Official YouTube Page
Official Facebook Page
Archives - Discography
IKD-SJ Brigade Members
Sakagchi Hirokads (Guitar)
Blog
Nannjo Katsche (Guitar)
(Solo Project) knulloid
www.knulloid.com
Hirakawa Mitzsrru (Bass)
Twitter
Ogiishi Akira (Vocal)
(Solo Works)
www.ikd-sj.com/ao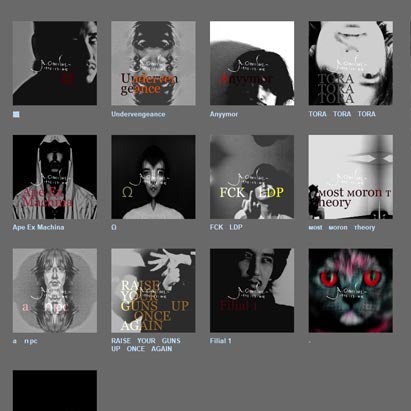 ikd-sj.com 2004-2022